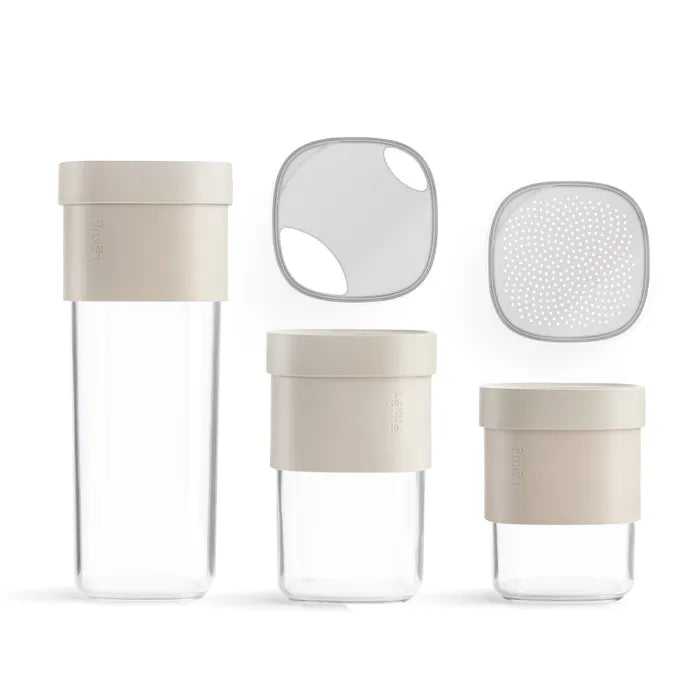 Airtight Flip Container Storage Set Brown
Save

70

%
Save

70

%
Original price
$69.90
-
Original price
$69.90
Essential, adaptable, and ingenious food storage containers for dried goods to maximize and save space.
These food storage containers are the perfect storage system. Change the volume from 600 ml to 850 ml and 1350 ml to 1600 ml to adapt to different spaces, ingredients, and cooking scenarios. The Flip accessory gives you an extra 250ml capacity when you need it. 
This set includes: one Flip Storage L (from 1350 ml to 1600 ml), two Flip Storage M (from 600 ml to 850 ml) and two Flip Storage Accesories.
Create your own ideal combination and save space! Flip containers are designed to be used as a single system. Organize your kitchen and make the most of the space with this stackable and modular solution, suitable for use on shelves or in drawers. The unique design of the lid makes the containers easy to stack together. 
These food storage containers are ideal for salt, nuts, pasta, and cereal for example. The transparent container and lid keep the contents on view from any position, so you can organize kitchen drawers and units fuss-free. And at Lékué we've always got our eye on the aesthetics: these aren't just kitchen storage, they're part of the decor. You'll want to have them on show!
They go beyond simple storage and include 2 accessories for easier emptying: a sprinkling accessory, perfect for powdered goods like cocoa and flour. And a pouring accessory, with two openings to suit a wider range of ingredients. 
The accessories are suitable for the two containers, regardless of capacity, and are placed inside the Flip component. They're easy to fit and remove, depending on how you want to use the container.
Measurement: Flip Storage L: mm L103 - W103 - H260/290, Flip Storage M: mm L103 - W103 – H130/162
Material: Platinum silicone + PP + SAN
Temperature: -15ºC / +80ºC
Capacity: Flip Storage M: 600 ml. / 850 ml. | L: 1350 ml. / 1600 ml.
Appropriate for Dishwasher