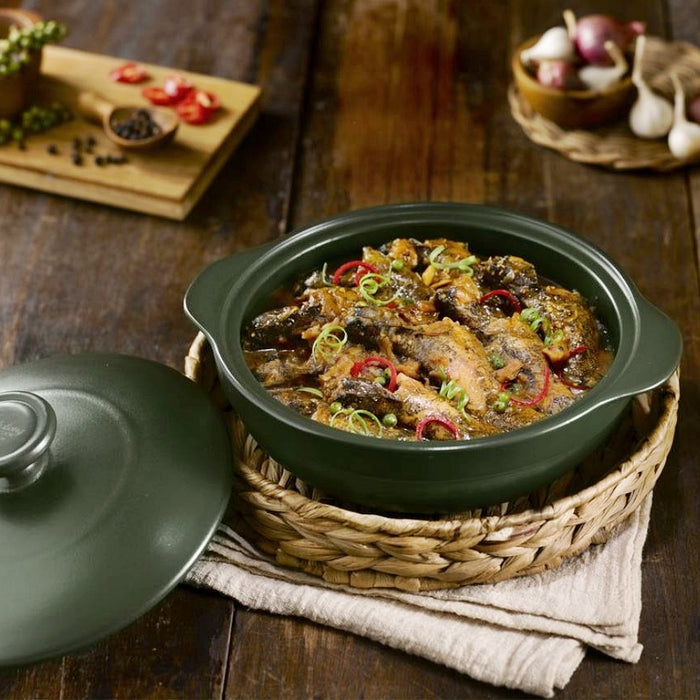 Luna Dutch Oven + Lid 2L
Sold out
Original price
$95.00
-
Original price
$95.00
Stewing, braising and cooking made quicker!
A better, healthier lifestyle with HealthyCook Premium Pots
Designed to maximize infrared radiation's properties in cooking by absorbing, dispersing and retaining heat evenly, our products can cook food faster and thoroughly, keeping its original colors and nutrients, therefore, giving 6 healthy benefits: no toxin accumulation, more nutrients retained for consumption, better food made for digestion, more healthy enzymes generated, reduce cardiovascular diseases and mitigate cancer risks through cooking.
FEATURES:
Made from Premium Macrobiotic Porcelain
Boiling, steaming without water, stewing and braising made quicker!

Enhanced with Infrared rays

Allows food to be cooked faster, inside out in more effective ways

Waterless boiling and steaming made possible

High thermal shock resistance (0

°C

to 800

°C

) 
Extreme durability: Anti-crazing, Anti-blistering, anti-peeling
Premium, elegant and ergonomic design
Perfect for making soups, stews and even rice
HEALTH BENEFITS:
Lead free and No toxic accumulation

High retention of nutrients
More healthy enzymes generated, better food for digestion
R

educe cardiovascular diseases and mitigate cancer risks through cooking

Reduces the risk of accumulation of carcinogens.
SPECIFICATIONS: 
Capacity: 2L
Comes with lid
Made in Vietnam
For use on gas, infrared stoves and

 oven

Dishwasher safe
Anti-corrosion, non corrosive by acid and alkali, retain pure taste of food
Made from natural and rare clay materials  
Dimensions:
Opening diameter: 23.58cm
Bottom diameter: 11.4cm
Height: 14.41cm
About Minh Long Healthy cook
Minh Long Healthy cook Premium Porcelain is introduced after more than 14 years of research. Made with rare clay and fine materials such as kaolin, feldspar, quartz, etc. Painstakingly selected from qualified mineral mines. Macrobiotic porcelain is also safe for daily use, non-reactive with toxin accumulation and fully compliant with RoHS (Reduction of Hazardous Substances) issued by the European Commission. Does not release common toxic substances such as lead, cadmium during cooking, hence, reduces the risk of accumulation of carcinogens.