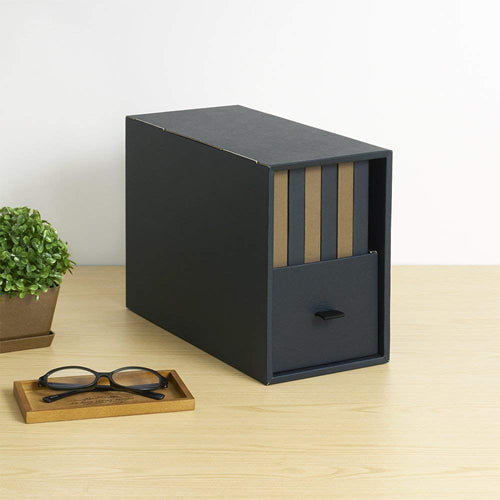 Choist Series File Box Black
Sold out
Original price
$51.00
-
Original price
$51.00
The Choist Series storage box is a great organiser for flyers and sealed letters. A4 documents can be organised into 6 different compartments. Each storage box has the capacity to hold up to a maximum weight of 4kg. The drawer pull fitted onto the door of the storage box allows for convenient manipulation.
Material: Paper, Neodymium Stone, Steel, Cardboard, handle, Nonslip Sheet Synthetic Rubber, Switch gear / Fer-rite magnet 
Dimension: (W)16cm x (D)34cm X H24.7cm
Weight: 860g
Designed In Japan
Nakabayahi was founded in 1923 for as a book binding business for a library and a repair business for old documents. As the company grew, it began supplying paper products like address books, photo albums, notebooks and office products such as letter case and shredders, necessary for office work and daily life.
Their current business segment has included a variety of categories such as "Business Process Solution (printing, book-binding, management of test, temporary staffing service etc", "Consumer Communication (notebook, photo album, document file, child car seat etc", "Office Compliance (office shredder, office furniture etc)", "Energy" and "Others". The wide array of products and services have been based on their technology and faith built-up through their book-binding business experience for many years.
.