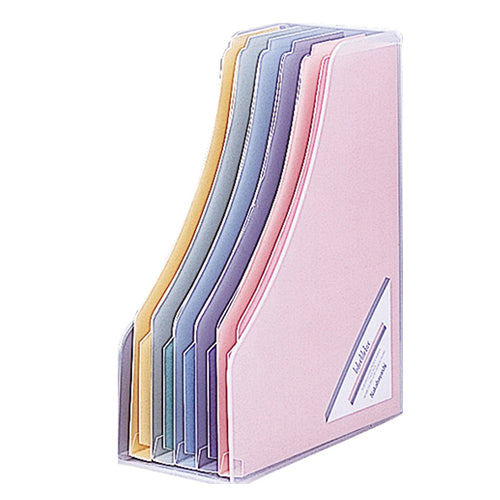 Index File Box F5 Clear
Save

50

%
Save

50

%
Original price
$34.00
-
Original price
$34.00
The Index File Box F5 Clear is designed for easy storage. It is suitable for office use as well as a desk organizer. This set includes 5 paper files (5 colors) and 1 piece of title label.
Material:  Body, polypropylene, paper file, coat cardboard
Body Dimension: (W)11.2 × (D)25× (H)31.5 cm
Paper File Size: (W)29.8 × (D)1.9 × H 22.5 cm
Weight: 770g
Designed In Japan
Nakabayahi was founded in 1923 for as a book binding business for a library and a repair business for old documents. As the company grew, it began supplying paper products like address books, photo albums, notebooks and office products such as letter case and shredders, necessary for office work and daily life.
Their current business segment has included a variety of categories such as "Business Process Solution (printing, book-binding, management of test, temporary staffing service etc", "Consumer Communication (notebook, photo album, document file, child car seat etc", "Office Compliance (office shredder, office furniture etc)", "Energy" and "Others". The wide array of products and services have been based on their technology and faith built-up through their book-binding business experience for many years.