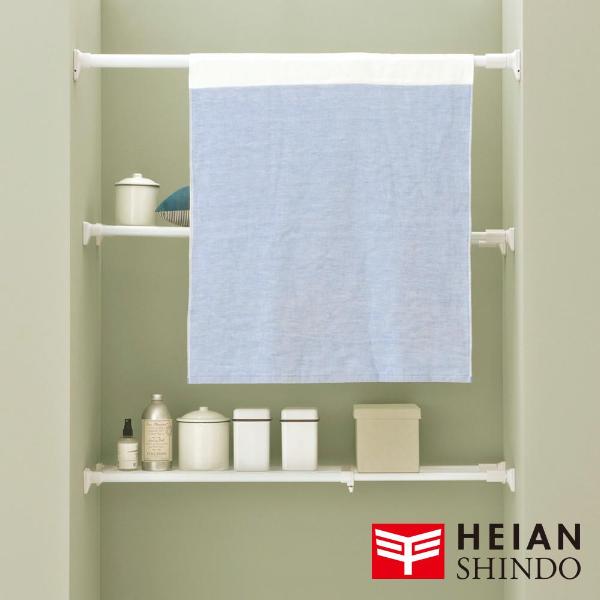 Standard Rod RTW-75
Sold out
Original price
$33.50
-
Original price
$33.50
Easy to install by simple length tuning.

HEIAN Standard Rod enables you to create more storage space in your rooms. You can install HEIAN Rod by adjusting the length to fit in a variety of spaces such as closet, kitchen or any other dead space in your rooms. weight resistant technology is born from 40 years of research and experience. When weight is applied to it, it becomes more difficult for the rod to slide.
RTW-75 Features:

Basic length 75 cm - longest extendable length 120cm

Max Load : 30 KG - 50 KG (Depending on 

the length of use)

Special design on both ends, heavy weight resistant and does not warp

Adjustable length of rod, 2 steps safety secure with screw and rotating ring 

Ideal to hang curtain, clothes rack, for usage in the bathroom, use as a divider, etc
No drilling of holes!

Easy installation - no special tools required

Use with other S-shaped hooks, shelves and other small items, you can create unlimited storage possibilities

Designed in Japan
Technical Details:
Pipe diameter :

29.6 mm

Measurement: 75 - 120 x 10 x 6.5 cm
Materials:

Pipes / Steel Pipe: Epoxy resin powder coating
Resin Components:

ABS resin, PP resin, Synthetic rubber

Screw: 

Steel (plated finish)

Fitting: Steel (plated finish)
What is a HEIAN Rod?
The HEIAN Rod, which makes a stylish solution for storage, is very easy to set up. Setting up storage spaces until now have meant a certain amount of labour, in the forms of measuring, assembling, and such. However, with the HEIAN Rod, there is no need for measuring or assembling. The HEIAN original crimping mechanism enables a perfect set-up, allowing you to freely create storage space in any type of setting without the use of tools. In addition, since removal is also simple, it is possible to try out various layouts for storage solutions. The HEIAN Rod's simple design will choreograph your life with style.
By HEIAN SHINDO, leading home storage item developer in Japan since 1952.