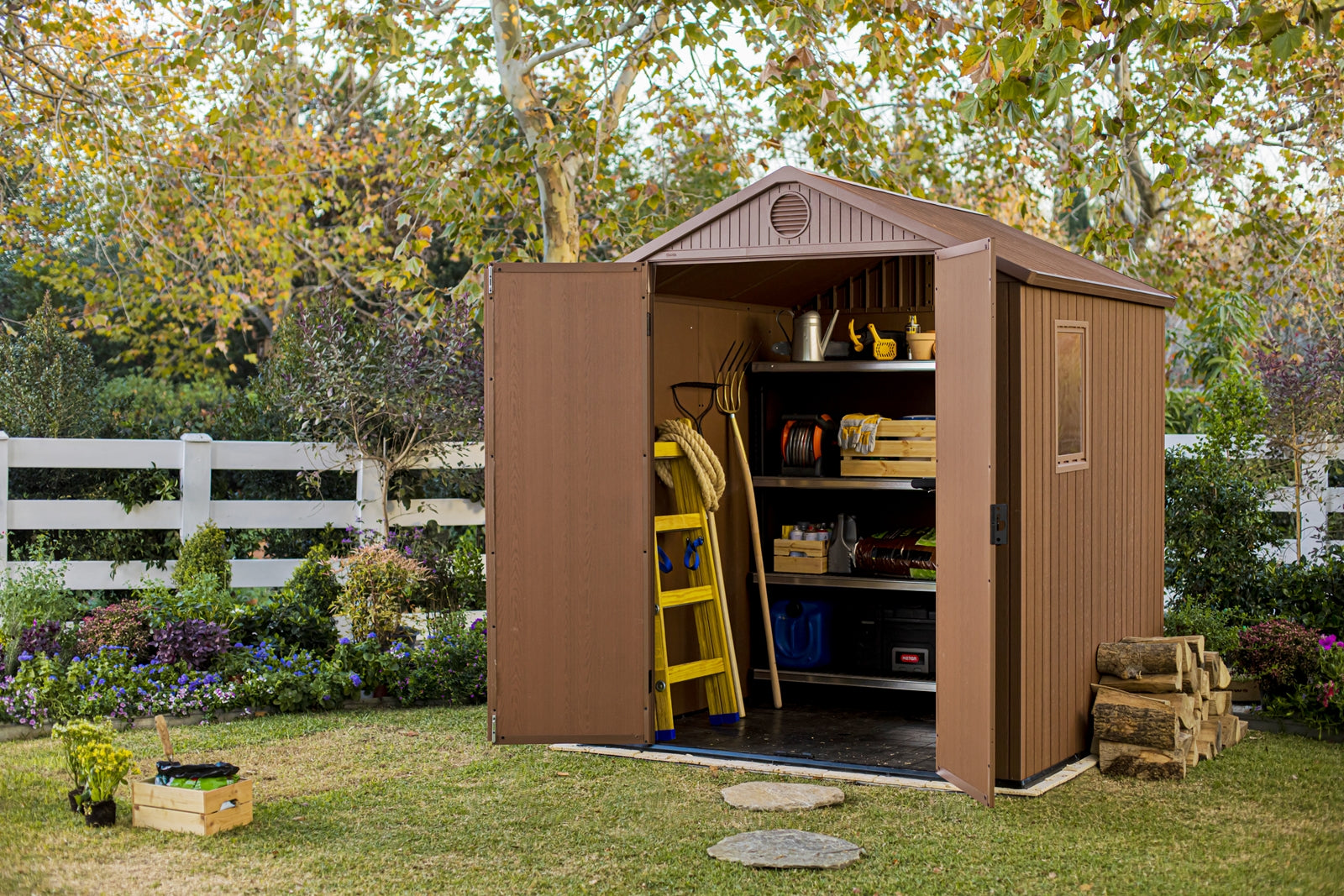 12 Most Asked Questions About Our Keter Sheds
Keter creates durable and weather-resistant sheds for all your storage needs. Check out this Q&A to answer the most common questions we get about Keter storage sheds.
Keter creates durable and weather-resistant sheds, using polypropylene resin, for all your storage needs. You can learn more about the differences between resin vs. wood vs. metal sheds here. We combine sustainable manufacturing processes with attractive and functional designs. This Q&A will help answer common questions we get asked about Keter outdoor garden storage sheds so you can start organizing!
Does Keter make good sheds?
Yes, Keter sheds are a great investment to protect your other investments. Whether you simply need extra space to park your lawnmower or need to take your yard back from your kid's toys, Keter storage sheds have you and your things covered, literally. But will they hold up to the elements and protect your belongings?
At Keter, we manufacture all our sheds from a durable, polypropylene resin that is sturdy enough to last many years without warping, rusting, fading, or peeling. Whatever you store in your shed, rest assured that it will be protected through all the seasons. Plus, we offer a variety of sizes and designs to fit your needs, whether that is storing garden tools, garbage cans, lawnmowers, and more.
What can be stored in a Keter shed?
Keter sheds vary in size so what you can store depends on the shed size you purchase. All Keter sheds are created from a recycled resin that is extremely sturdy, built to last, and can handle all weather conditions to keep your items safe and secure. Our outdoor storage sheds are versatile and are created to address a variety of needs, such as storing patio furniture, cushions, kids' toys, bikes, equipment, washing machines, lawnmowers, gardening tools, and more.
Do all Keter sheds come with a floor?
Yes, all Keter outdoor sheds come with a heavy-duty floor panel that is extremely sturdy when built on solid and level ground. This will keep all of your items safely off the ground and will prevent them from getting muddy while in storage.
Do Keter sheds need a base?
All Keter sheds are extremely sturdy and come with a heavy-duty floor panel. However, we highly recommend building the shed on solid and level ground, preferably on a concrete slabs. 
Where should you locate your Keter shed?
We recommend that you locate your shed on a flat and solid surface. Try looking for the flattest and most stable part of your yard when starting the construction of any shed. It may not seem like a big deal, but it can make a huge difference.
What are Keter sheds made of?
Keter believes in creating high-quality durable products that will better the planet. All Keter storage sheds are made of resin-based products. We've developed technologies that provide the look and feel of real wood or metal with the superior durability of resin. All our Keter products are created using recycled materials and can be recycled.
Where are Keter sheds made?
Most Keter sheds are manufactured in Israel as part of the Keter Group, an international group that is a major supplier of sheds and other storage solutions for homes and gardens on a global scale. 
Can we view the Keter sheds?
Yes, definitely! We have a big range of storage sheds on display at our showroom: 39 Keppel Road, #04-10, Singapore 089065. Visit our showroom to view and feel for yourself! From Mon to Fri, 9am to 5pm only! 
What sizes of Keter resin sheds are available?
Keter sheds come in a variety of sizes and designs, ranging from 4ft x 3ft small sheds to 7ft x 11ft large sheds. The size of the shed you choose depends on what you plan to store and how much space you have for the shed. If you are looking for other small storage solutions, Keter also sells boxes and storage benches.
Can Keter sheds hold up in the rain, sun and high wind areas?
Yes, Keter's sheds can handle the harshest of weather conditions. Keter sheds are produced with recycled resin, making them extremely sturdy and weather-resistant against warping, rotting, fading, rusting, or peeling. The sheds are all durable, easy to clean, zero maintenance, and fade-free.
Are Keter sheds waterproof?
Keter sheds are water-resistant. Keter sheds are manufactured from high-quality, recyclable materials under rigorous control and supervision to protect against warping, rotting, fading, rusting, and peeling. Whatever you store in your resin shed will be safe from all elements throughout the seasons.
Will Keter sheds fade in the sun?
Keter sheds are produced using resin, a high-quality, durable recyclable material that protects against warping, rotting, fading, rusting, and peeling. Keter sheds are created to be maintenance-free, so you will not have to worry about any Keter sheds losing their color over time.
Conclusion
Thank you for taking the time to learn about Keter's resin-based sheds. We encourage you to browse the various sheds that Keter offers and choose one that suits your storage needs. If you have any questions, please contact customer support and we will be happy to help you.