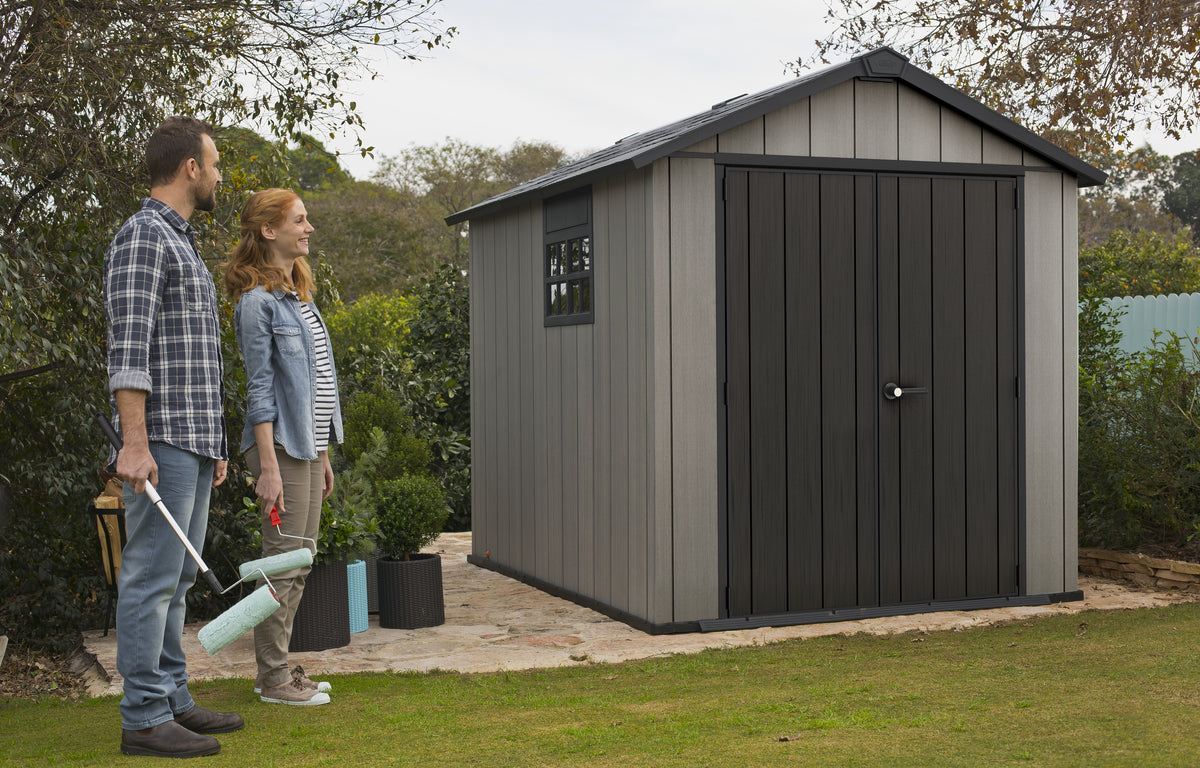 Resin vs. Wood vs. Metal Sheds: Which Material Is Better?
Building an outdoor shed is a great way to add extra storage space and stay organized, However, determining the type of material you want is the most difficult part. There are three common materials used for sheds - resin, wood, and metal. We'll be outlining the advantages and disadvantages of each so you can understand the use cases of resin vs. wood vs. metal sheds to make the best decision.
Resin Sheds
Resin sheds are sheds that were created to be a more versatile, affordable, and sustainable shed material. It combines most of the benefits of wood and metal while addressing the large disadvantages of each material. Resin sheds are more environmentally friendly when compared to wood, and Keter takes that one step further by using 100% recyclable materials. In general, resin-based sheds are growing in popularity because of their versatility and simplicity. Take a look at the most asked questions about Keter sheds.
Pros
Easy cleaning and low maintenance
Rot, insect, and rust-resistant
Easy to assemble
Resin sheds are designed with a purpose. They are created to be easy to clean, light enough to transport, and can be assembled in one afternoon. Moreover, resin sheds involve very little maintenance and are extremely durable and weather resistant. Keter promises to create weather-resistant resin products that won't rust, rot, fade, peel, warp, or be affected by insects. With a variety of sizes available, resin sheds are a cost-efficient alternative to wooden sheds. Keter's ability to use recycled materials also makes resin a sustainable and visually appealing alternative, as many of the sheds replicate the look and feel of wood without the negative environmental effects.
Here is a video that summarizes the advantages and disadvantages of resin.
Wooden Sheds
Wooden sheds are the first type of sheds that were ever created and produce a rustic and classic look that can enhance any space. They are usually assembled using framing lumber and pressure-treated polywood to create that traditional wood appeal.
Pros
Strong and durable
Visually appealing
Easy to customize
The biggest benefit of choosing a wooden shed is that they are easy to customize and there are a wide variety of designs and sizes, making it easy to find something you like. They're also very strong and durable without needing to be anchored to the ground. One of the major reasons many people pick wooden sheds is because they are visually appealing, making them a great choice if you're looking for a shed that doesn't take away from the aesthetics of your space. However, Keter does have resin-based sheds that replicate the look and feel of wooden sheds without the disadvantages associated with wood.
Cons
Not insect, fire, or weather-resistant
Will rot over time
High maintenance
Unfortunately, there's a reason why sheds are now created in a variety of materials. Wooden sheds come with many disadvantages, such as not being insect, fire, or weather-resistant. Wood is also not environmentally sustainable, pricier, and can easily rot. They aren't the best option for anyone that wants a low-maintenance and weather-resistant option.
Metal Sheds
Metal sheds are a popular alternative to wood because they come in different gauges of thickness and are created using steel or galvanized aluminum. However, compared to wood and resin sheds, metal sheds come in very few designs that mostly look the same with limited features.
Pros
Low maintenance
Durable
Fire, insect, and rot-resistant
Metal sheds are durable, inexpensive, and last a long time. Unlike wooden sheds, metal sheds are fire, insect, rot, and weather-resistant, making them a zero-maintenance shed option.
Cons
Need to be anchored to a base
Not resistant to rust
However, unlike wooden sheds, metal sheds must be anchored to a base and are limited in size, styles, and customizations. Metal sheds are not resistant to rust and because of the weight of the metal, it's not easy to transport either. If you're looking for a shed that you can work inside, is easy to assemble, and is visually appealing, we'd recommend you don't choose a metal shed.
Is a resin shed better than a metal shed?
Choosing a resin vs. a metal shed depends on the purpose of your shed. Although resin sheds can be more expensive, if you are looking for a shed to work in, the resin is a better option as the metal will get very hot. Resin sheds are also easier to transport, and easy to assemble. The appearance and location of your shed also play an important role because resin sheds come in various textures to make the shed more visually appealing and easier to customize. However, if you're looking for a durable and inexpensive shed, metal is the better alternative.
Are wood or resin sheds better?
Choosing between metal vs. wood comes down to what qualities you care the most about in your shed. If you are looking for a less expensive and weather-resistant shed, resin is the better option. Resin sheds are weather-resistant against rotting, peeling, rusting, insects, warping, and fading. Resin is also easier to maintain and assemble. If appearance is important to you, both resin and wood will give you the same classic wood appearance. This is because Keter provides resin-based sheds that replicate the look of wooden sheds with all the benefits of a resin shed. However, you can find wooden sheds that are pre-assembled and don't need to be anchored to the ground. If you're looking for a quick and easy solution that requires no assembly, wood is the better option.
Do I need to prepare anything before I begin building my shed?
The answer is yes! When you decide which shed type you would like to buy, you'll need to read over the instructions or carefully research the preparations needed for that type of shed. For example, if you buy a resin shed kit, you'll want to make sure you've located a flat surface to put it on. You'll want to clear the area of any rocks or debris. Then you'll want to put down the base of the shed. While this varies a little from shed to shed, you'll always need a clear flat area for your shed so your base is level which will make the shed more sturdy. In some cases, you may even want to lay a foundation for your shed. You can make the foundation out of pavers, wood, or even concrete. This is totally based on preference and will depend on your outdoor space.
Which Shed Should You Buy?
The final decision on what shed to purchase comes down to your personal preference. The differences between resin vs. wood vs. metal can be narrowed down into 4 categories: price, durability, maintenance, and assembly.
When it comes to price, wood is the most expensive and least environmentally friendly option, the resin is the second-most expensive and the most environmentally friendly option, and metal is the cheapest but the hardest to transport and assemble.
All three materials are durable and will be able to hold anything you store. But you'll want to remember which options are going to last the longest through the harshest weather elements. Wooden sheds are not necessarily waterproof and are not resistant to fire or rotting. Metal sheds are more durable as they are fire, insect, rot, and weather resistant. They can rust, but they are more durable to the elements vs. wood. Resin is the most durable because it's weather-resistant to fading, rusting, warping, rotting, insects, and fire.
Assembly is the final factor to consider when purchasing a shed. Some wooden sheds are already built and just require you to install them. However, most wooden sheds are difficult to build and require a lot of work and patience. Metal sheds are also difficult to install and once they are built, it's very difficult to transport a metal shed. Resin is the easiest to build and easy to move to a new location because of its lightweight material.
What kinds of issues can I run into while building or maintaining a shed?
If not done carefully and following instructions, there are many issues you can run into while building any type of shed whether it be wood, resin, or metal. It's important to do your research if trouble arises. Just make sure you speak with an expert or research the problem carefully. 
On another note, maintaining your shed year-round, no matter what material you decide to buy is critical to longevity. Make sure you're inspecting the walls, checking the roof, and keeping an eye on the inside of your shed. This should prevent issues from getting more difficult to fix. For example, if you ran into the issue of water inside your shed, you might be wondering why is my shed leaking? You'll want to look for any pools of water or discoloration inside the shed. Leaking is usually due to holes and cracks in the shed or maybe even damaged shingles on the roof. If you catch this problem early on, you can get it patched up quickly before the leak ruins too much inside the shed.
So, Which Shed Material is the Best?
While all three shed materials are durable and will get the job done, metal and resin are better alternatives for weather-resistant sheds that can handle the harshest conditions without any maintenance. Wood and resin sheds are the best if you care about the visual appearance of the shed. Resin sheds are the best option if you are looking for a shed that incorporates all the benefits of wood and metal as well as a sustainable option.
Overall, resin sheds were created to address all the disadvantages of wood and metal and are an affordable material for anyone that wants to purchase a shed and never think about it again. You won't have to worry about fading, rusting, rotting, warping, and more. Simply assemble the shed and get to organizing.
Keter Resin Sheds and Storage Solutions
We encourage you to explore the various shed styles and sizes of sheds that Keter offers. If you are looking for other small storage solutions, Keter also sells boxes, storage benches and even shelving that you can add to your sheds.
So, you might be wondering what type of resin Keter sheds are made from–and the answer is they're made from a sturdy polypropylene resin that is durable and beautiful. Keter sheds stand up to the elements including sun, rain, snow, and even wind. The sheds also do this with little to no maintenance, unlike other shed types.
Keter sheds are also eco-friendly. The resin is made from sustainable materials and the structures will last you for years to come. So, you won't continuously need to send old rotting furniture to the landfill.